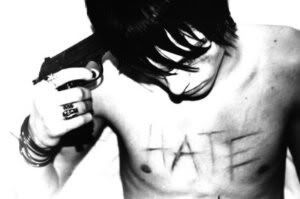 From Denny:
 It really is past due time to get serious about dealing with the issue of World Hate.  Black people think it's "just" about historical racism aimed squarely at them.  Well, that's true - and it's also an ugly part of a much larger and more pervasive problem
destroying humanity from within.
Hate is like an invasive weed that chokes out the sunlight
and dries up all the nutrients and water that gives Life to the surrounding plants.  
Think of this scenario in terms of a nation or a religion and the consequences are staggering...
Oppose Hate in the world: "Love like you nothing better to do with your time." - Denny Lyon
Visit 

Denny Lyon Gifts

  @ CafePress.com  -  see what's new!